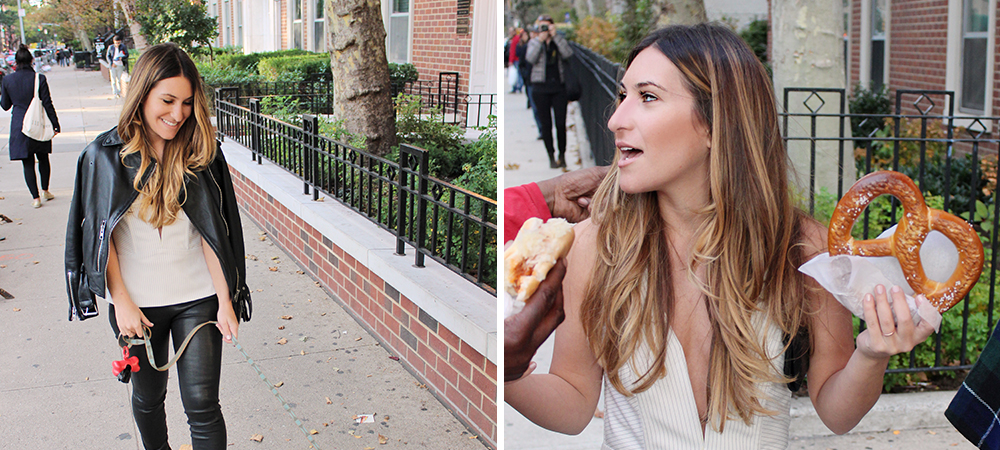 New York  gets such a bad rap for having rude, anxious, overworked, and impatient people all crammed within one small grid-like space. Everything from the jobs, fashion, traffic, and price tags –  can make some hurl over with anxiety. Welp, I completely disagree. For 100 reasons I won't list here; except for the story behind the photo above.
While roaming on a photo shoot to launch Dear Ivy, I got the brilliant and super original idea to eat a pretzel to make it feel "New Yorky". I was also famished and missed lunch. I never planned on shooting this photo or sharing that random fact, until I tried to buy the pretzel.
I approached the pretzel vendor while trying to walk like Cindy Crawford.  I asked the vendor how much a pretzel cost, and looked down to realize I didn't even have a wallet on me and couldn't buy one regardless. I opted for a shoot with just the pretzel truck because that's brilliant… and then a homeless man approached me. He overheard my exchange.
The homeless man reached into his pocket, and pulled out the appropriate change. I had tears in my eyes. I wasn't in dire need of a meal. I refused. Absolutely refused. The man running the pretzel stand was just as taken aback and said "WOW, if this man is willing to buy you a pretzel, I will give you both food for free". My heart exploded from the generosity from both ends, and I fought back tears and opted for a tight lipped grin.
I accepted.  Then of course the photographer snagged this shot. Afterward, I was over the idea of randomly needing to pose with 65g of carbs, I just wanted to enjoy my moment eating a pretzel with one of New York's finest humans.
Hope this story tugs your heart strings the way it did mine that Sunday.  Kindness is incredibility contagious, it costs you nothing, and New York;  you're still my BAE.